Package Includes:
Free Two Year Rigid Board Warranty*
15 Day Return Policy*
Free Shipping*
Your Shipment Is Protected From Damage & Loss*
Cruiser SUP Adjustable Length Paddle
DELUXE COIL ANKLE SAFETY LEASH
Screw-Less Removable 9" touring Fin
Two Removable Side Fins* (see tech specs below)
Lockable, Recessed EZ Grab™ Ergo Carry Handle
Select Sizes and Colours Now Available In Canada


Shipping Information
Yoga Mat Paddle Board Package with Full Length Yoga Deck Pad | Cruiser SUP® Canada
The Best Yoga SUP Boards you can find!
From 26 pounds with Durable Feather-Lite Molded Wood Technology, Yoga Deck Pad, 3 Fins, Deck Bungees & 2 Year Warranty.

The Cruiser SUP Yoga Mat offers the best combination of SUP Yoga performance, durability, and eye-catching graphics. The inner Yoga Mat is a softer, brushed EVA, offering greater comfort while working in the center of the board. The entire top of the board also has full deck pad for grip and traction outside the Yoga Mat area

The Feather-Lite construction is more durable than Cruiser SUP's Ultra-Lite construction, but still remains extremely light-weight. Weighing as little as 26 pounds, the Yoga Mat series can carry up to 230 pounds. This board is available is 10'6" and 11' sizes. Ample width allows higher volume and fantastic stability for beginners and yoga practitioners alike.

The Yoga Mat is ideal for all users looking to add a fitness element to their SUP experience. The added durability also makes it a great option for family use.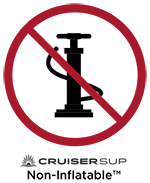 Recommended Size Chart & Technical Specifications
Yoga Mat Paddle Board Package with Full Length Yoga Deck Pad | Cruiser SUP® Canada
The charts below show our recommended sizes based on weight, but there are other factors (balance, ability, experience, conditions, carrying kids or dogs and intended use) that determine a great fit. That's why you'll see some overlap in our recommendations. The best way to find your perfect fit is to consult the experts at Cruiser SUP.
Weight Range: (lbs)
Beginner:
Up to 190
Up to 230
Advanced:
Up to 220
Up to 280
Specifications
Length:
10'6"
11'
Volume:
205L
230L
Width:
33"
33.5"
Thickness:
5"
5.25"
Weight: *(+/- 10%)
24 lbs
25.5 lbs
Fin Type:
Center: 9"
Side: 2
Center: 9"
Side: 2
Warranty:
2 Year
2 Year

Stand up paddle boards are not "one size fits all". Maximize your enjoyment by making sure your board is sized properly for your body weight.

Feather-Lite
Construction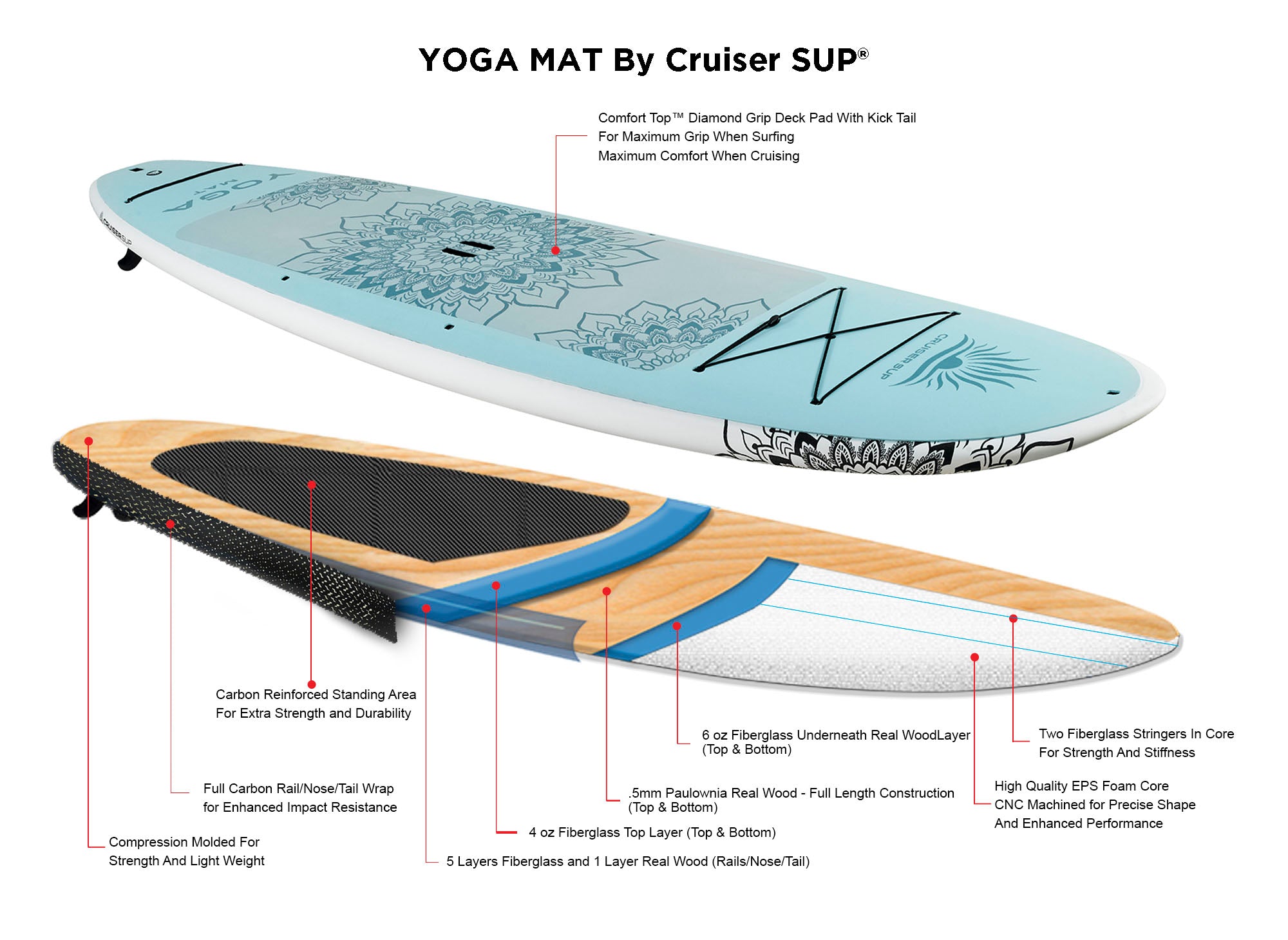 Cruiser SUP Feather-Lite boards offers a class leading, user friendly "soft & tough", high quality molded wood construction.
Tough: In addition to two layers of 6oz. fiberglass on top and bottom, and 5 layers of fiberglass wrapping the rails, there is full-length wood reinforcement sandwiched between the fiberglass layers. Extra 6oz fiberglass reinforcement in the standing area to prevent heel dents. The quality 16kg EPS core is also strengthened by triple glass stringers. This is vacuum molded for extra strength, impact resistance, lighter weight and accurate shape. The result is a strong and durable premium construction.
Soft: Cruiser SUP Crossover offers nose to tail high quality EVA foam deck pad for a soft, comfortable touch. With 4.5mm non-slip 'croc" texture in the standing area and thick, soft brushed EVA foam in the nose for carrying kids, it is also extremely comfortable for yoga. The rails are painted in matte finish (no eva foam) for improved performance and custom look.
Yoga Mat Paddle Board Package with Full Length Yoga Deck Pad | Cruiser SUP® Canada Features
Feather-Lite Molded Wood Technology
The Feather-Lite Technology features compression molding of multiple layers of fiberglass, epoxy resin, and wood veneers. Standing area reinforcement and triple glass stringer round out the Feather-Lite Technology. The end result is a board that is light, stiff, durable, and exceptionally high performance.
Premium Full Length Deck Pad
High quality, plush, full length EVA foam coverage for a soft, comfortable touch. With grip on entire top, and the "Yoga Mat" section the size of standard Yoga Mat - you have grip, comfort, and stunning graphics.
Breathable Pressure Vent
This specially designed, maintenance-free valve features a 2-way membrane that lets air escape safely from the core of your board during rapid temperature changes on those hot, sunny days or during enclosed transport.
2+1 Fin Set Up
Comes standard with a removable touring center fin for better glide and tracking in flat water. 2 removable side fins for performance and control in surf.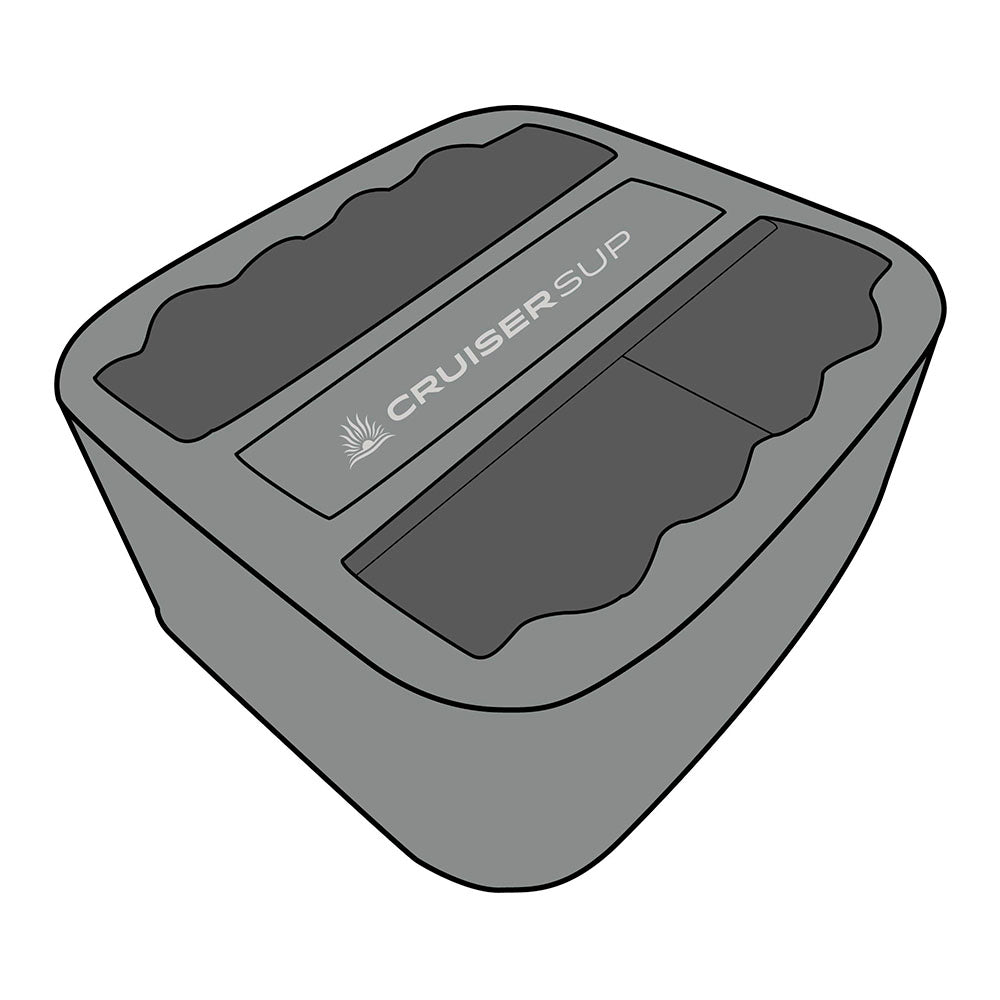 Lockable EZ Grab™ Carry Handle
Allows for ease and comfort when transporting your board to and from the water. Dual Opening, Ergo Handle allows the ability to thread lockable cable (Cable not Included).
Bungee/Insert System - Nose & Tail
Carry along anything you want from water bottle to PFD. 4 attachment points in front of the pad, and another 2 on the tail allow you to take along whatever you want. 4 cooler tie down inserts.
Composite (Non-Inflatable) Boards
All Paddleboards are double boxed to ensure they ship safely and arrive in pristine condition.
All composite boards, due to their size, must ship by freight carrier. Our chosen carrier for over the last 10 years is www.kingswaytransport.com
Restrictions and conditions may apply to our Free Shipping offer. *Restrictions and conditions may apply. This may include home delivery costs, remote delivery locations, or deliveries that are a substantial distance our Ontario shipping address.
Residential deliveries require delivery appointment (arranged with you by our carrier). Adult Signature required on all deliveries
Delivery to PO boxes is not possible. All address must have suitable access for a freight carrier/transport service to access
Inflatable Boards
Due to their smaller size, inflatable's are easily shipped via www.canpar.com
As they have a large insured value, all inflatable's are shipped with Adult Signature Required.
Please note, www.canpar.com is not able to deliver to PO Boxes.
Paddles and other Accessories
All paddles and other smaller accessories ship via www.canpar.com. Signature is not required.
Please note, www.canpar.com is not able to deliver to PO Boxes.
Have more Questions?
Please contact us before ordering if you require clarification on free shipping restrictions, residential delivery, or any other aspect of the delivery process
We Use Them. We Know Them.
E-mail Us or Call 1-800-617-9463.
We're Here to Help.
Before and After Your Purchase.