CRUISER SUP® PADDLE BOARD MFG CO

AMERICA'S #1 NON-INFLATABLE PADDLE BOARD SOURCE
Legendary Quality Paddle Boards. Backed By Two Year Warranty.
CRUISER SUP® PADDLE BOARD MFG CO

AMERICA'S #1 NON-INFLATABLE PADDLE BOARD SOURCE
Legendary Quality Paddle Boards. Backed By Two Year Warranty.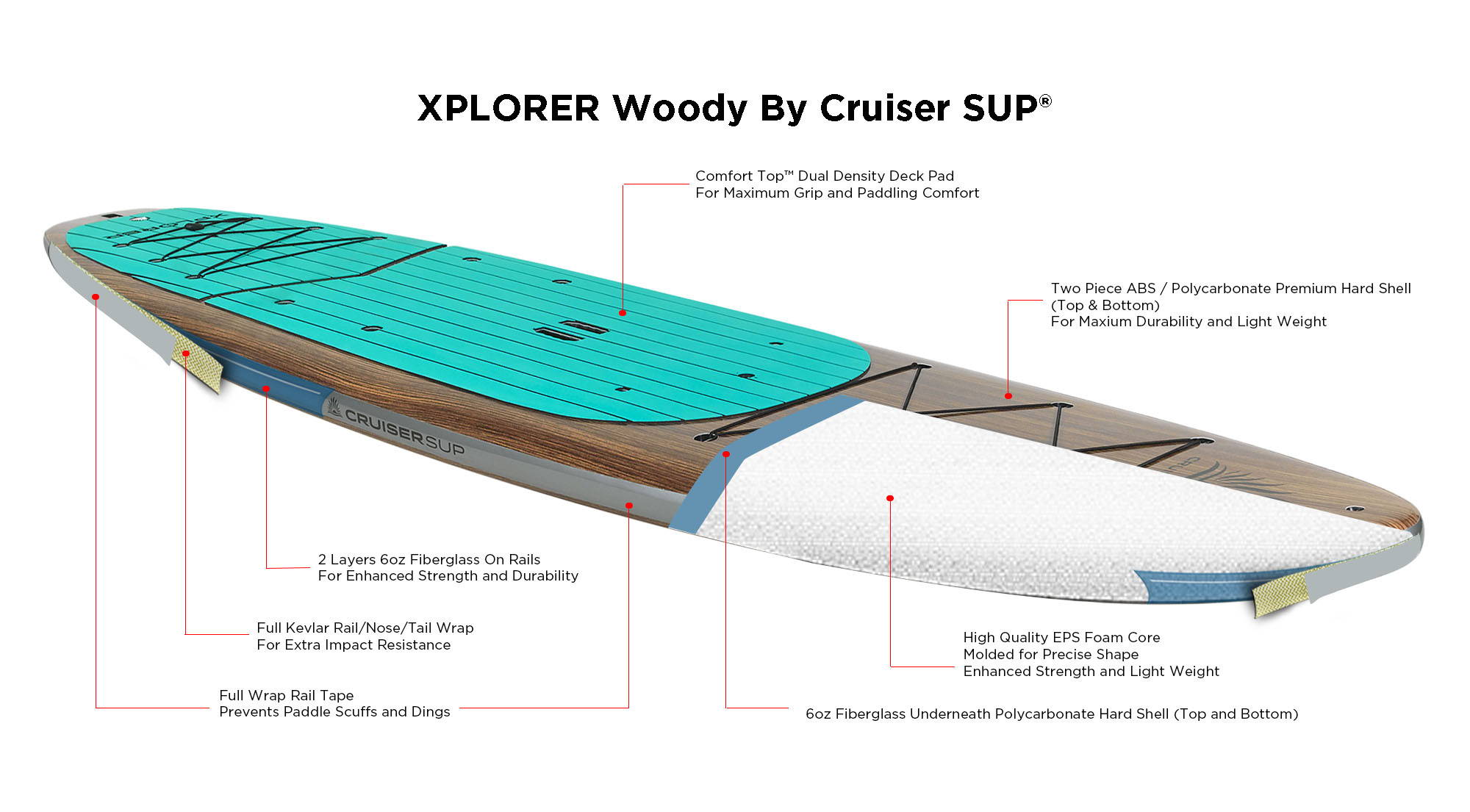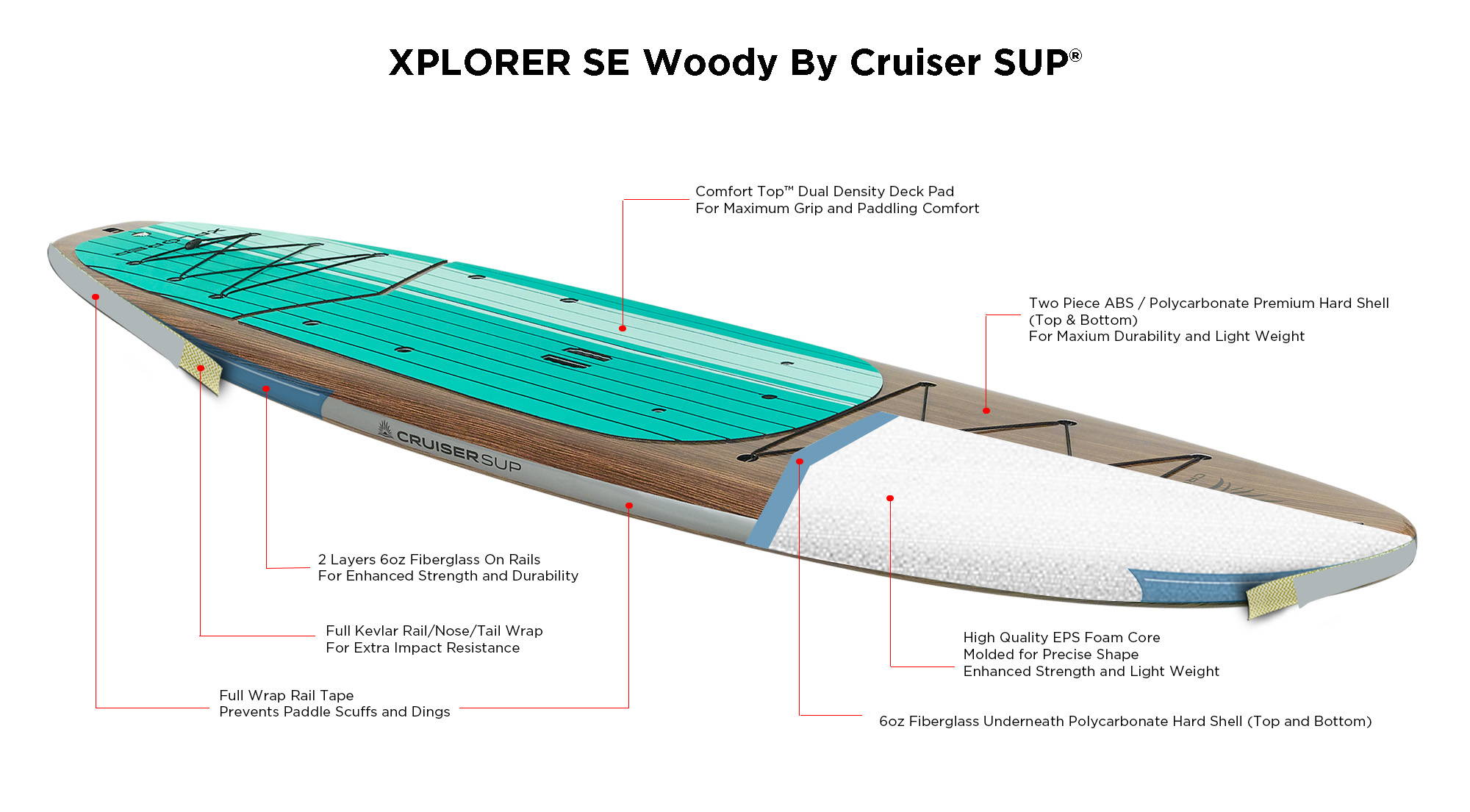 ---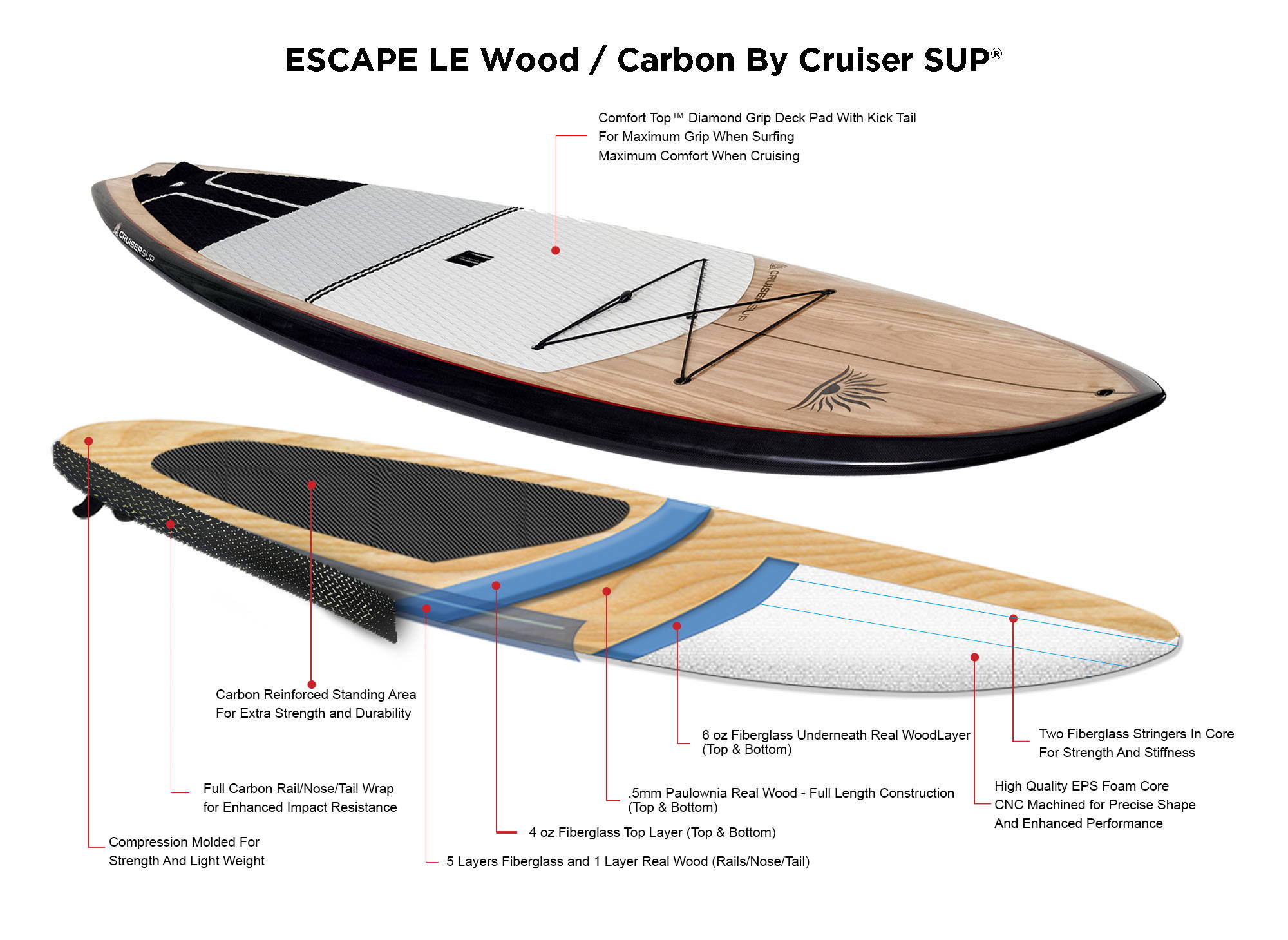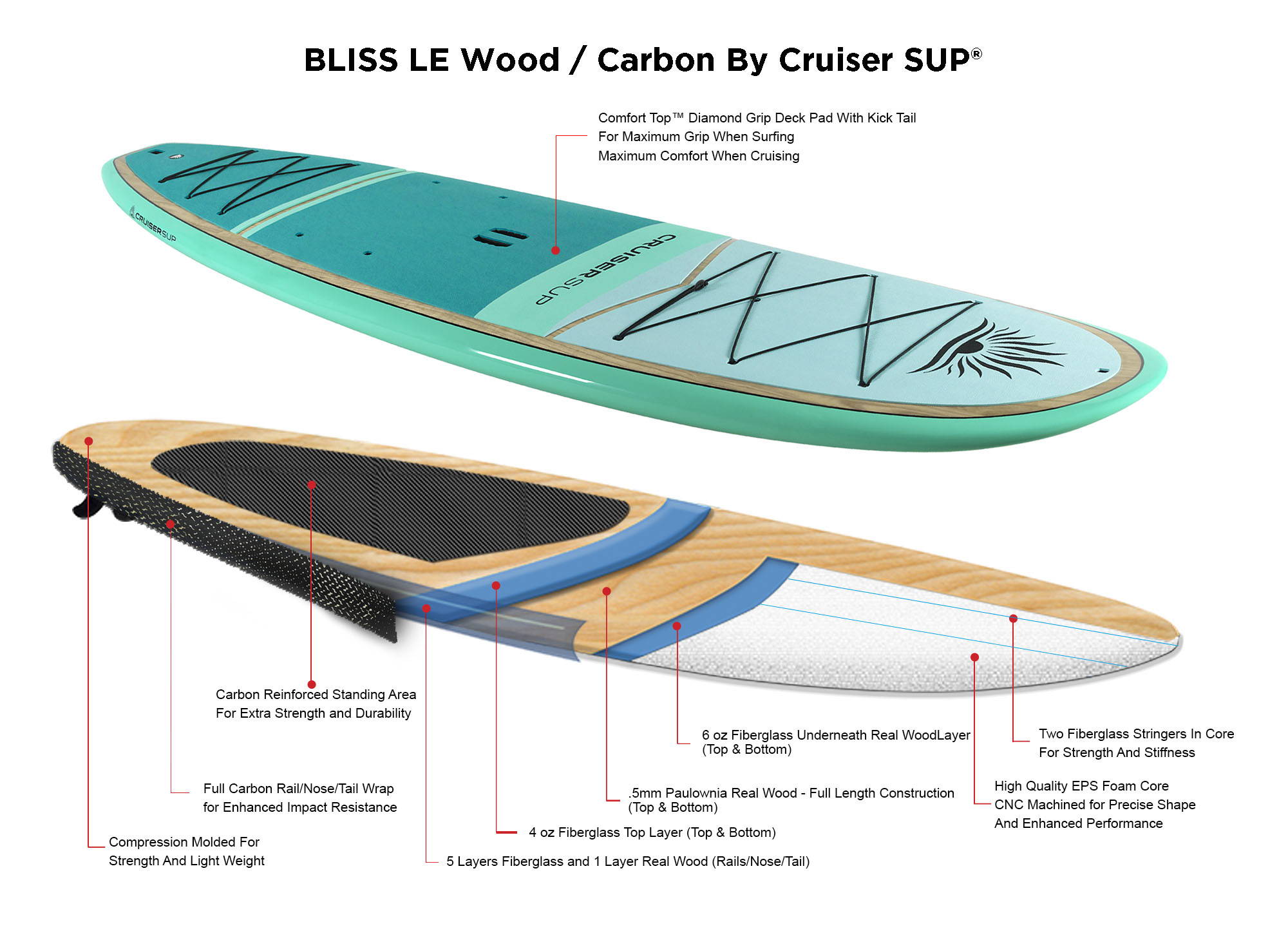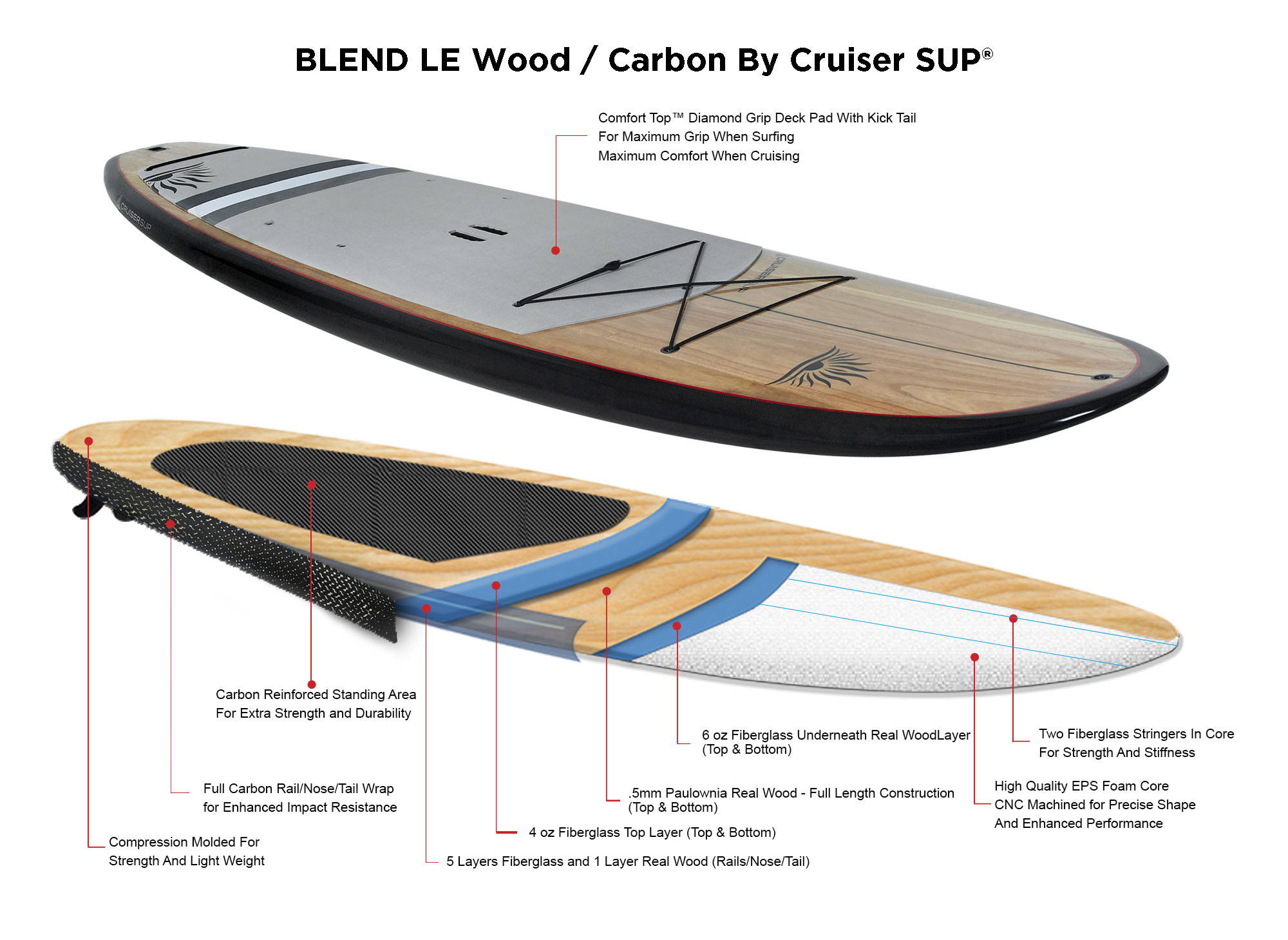 ---
V-Max Woody 11'6'' DURA-LITE™

V-Max Woody 12' DURA-LITE™

V-Max 12'6'' DURA-LITE Wood / Carbon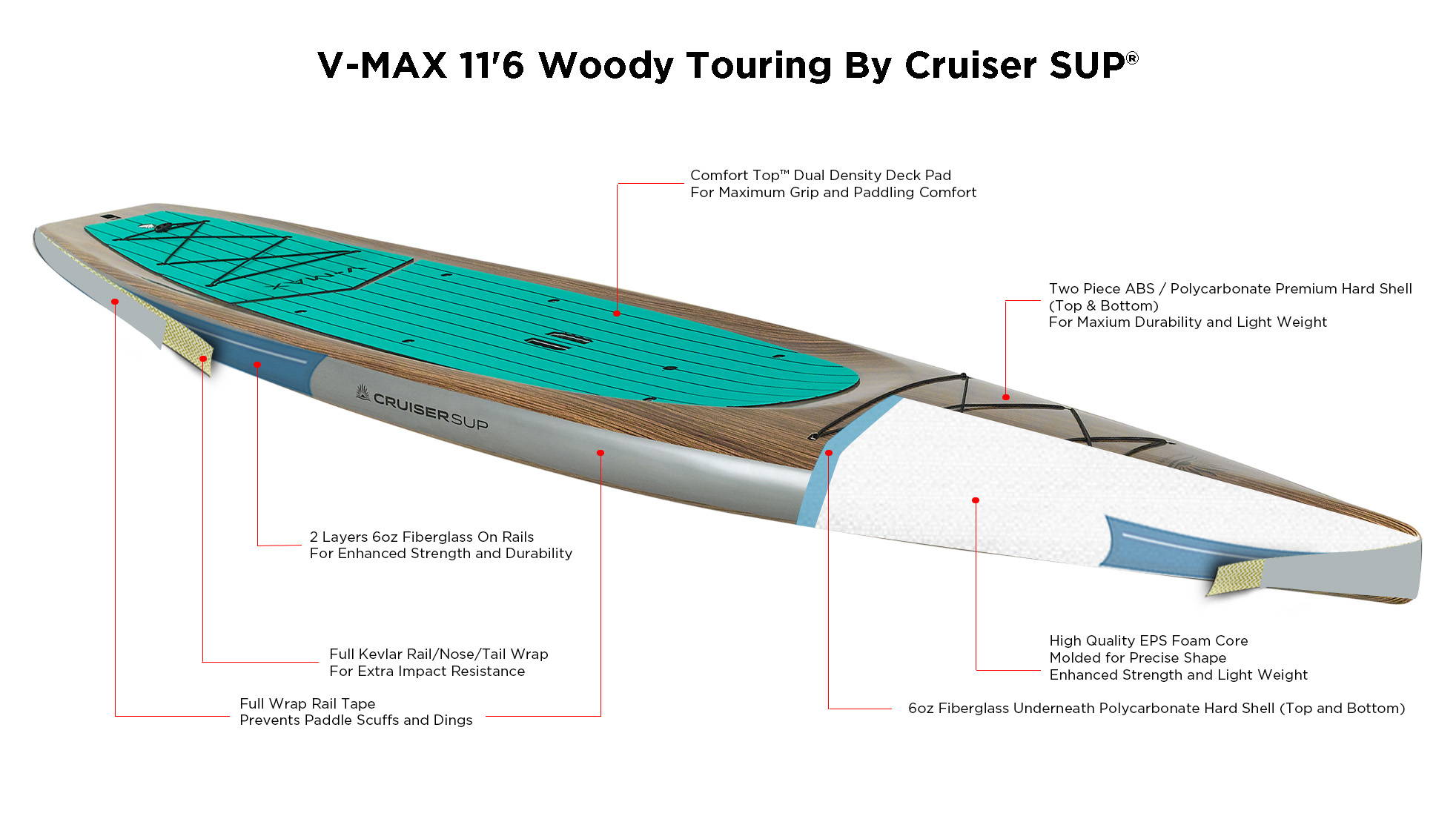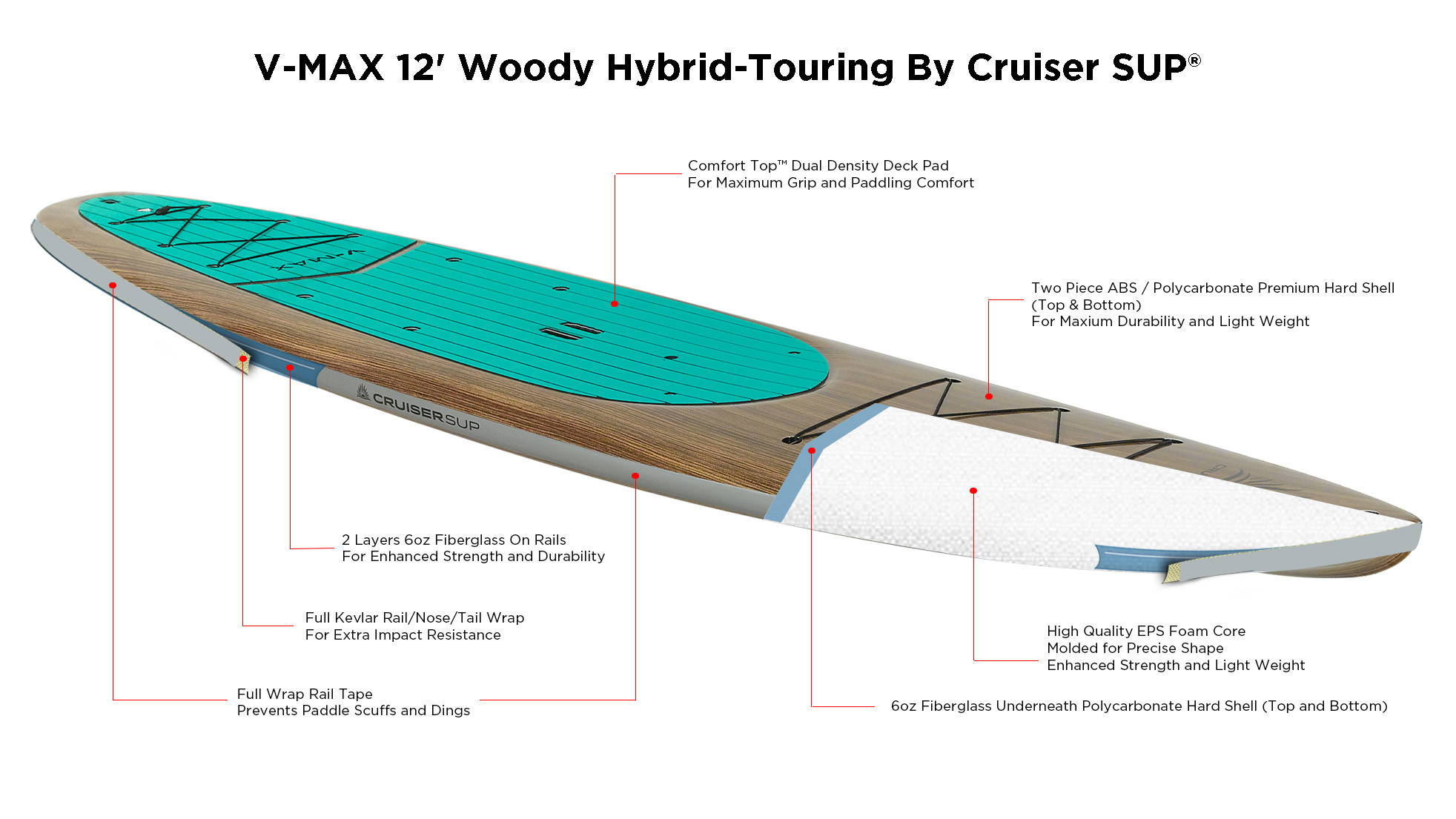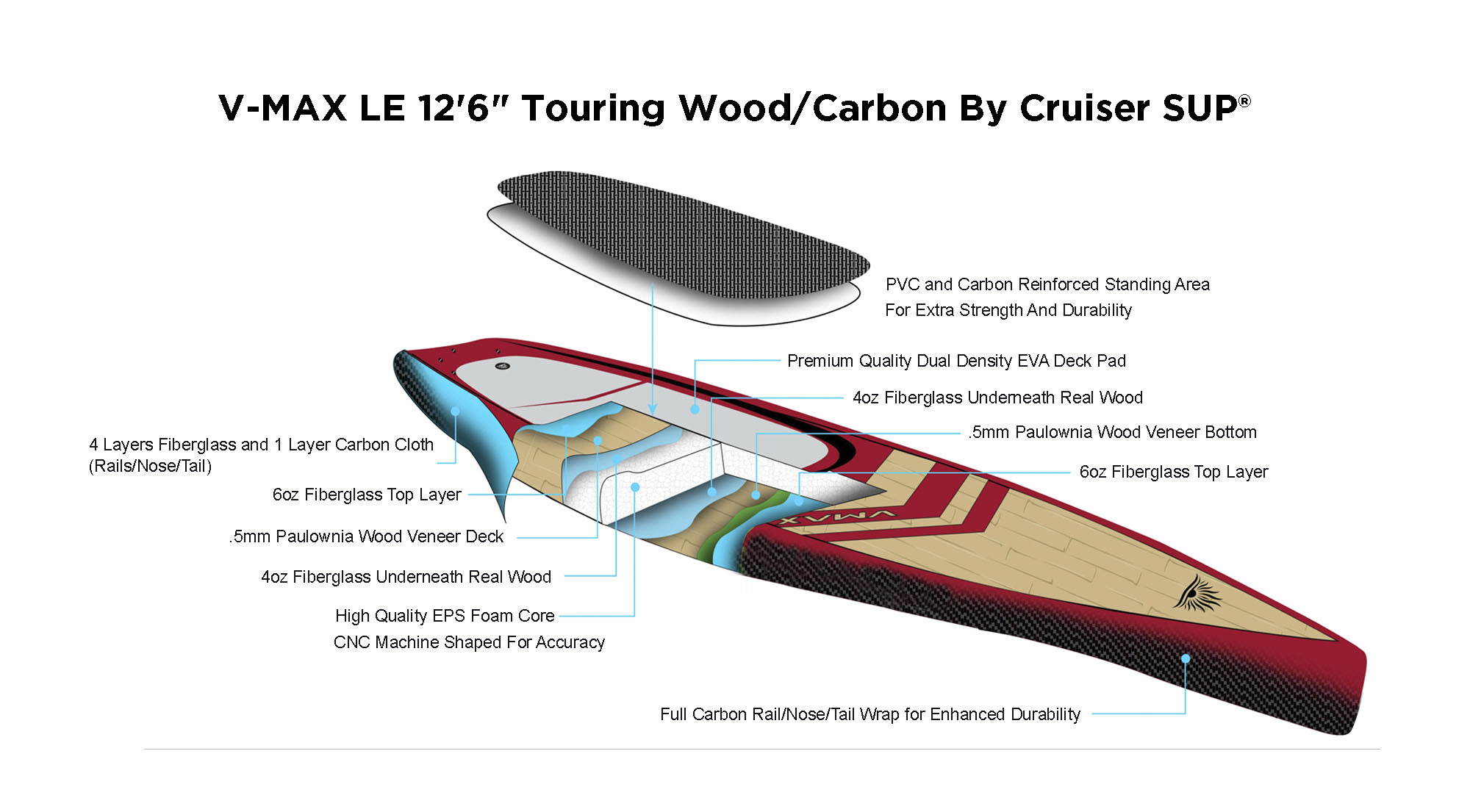 ---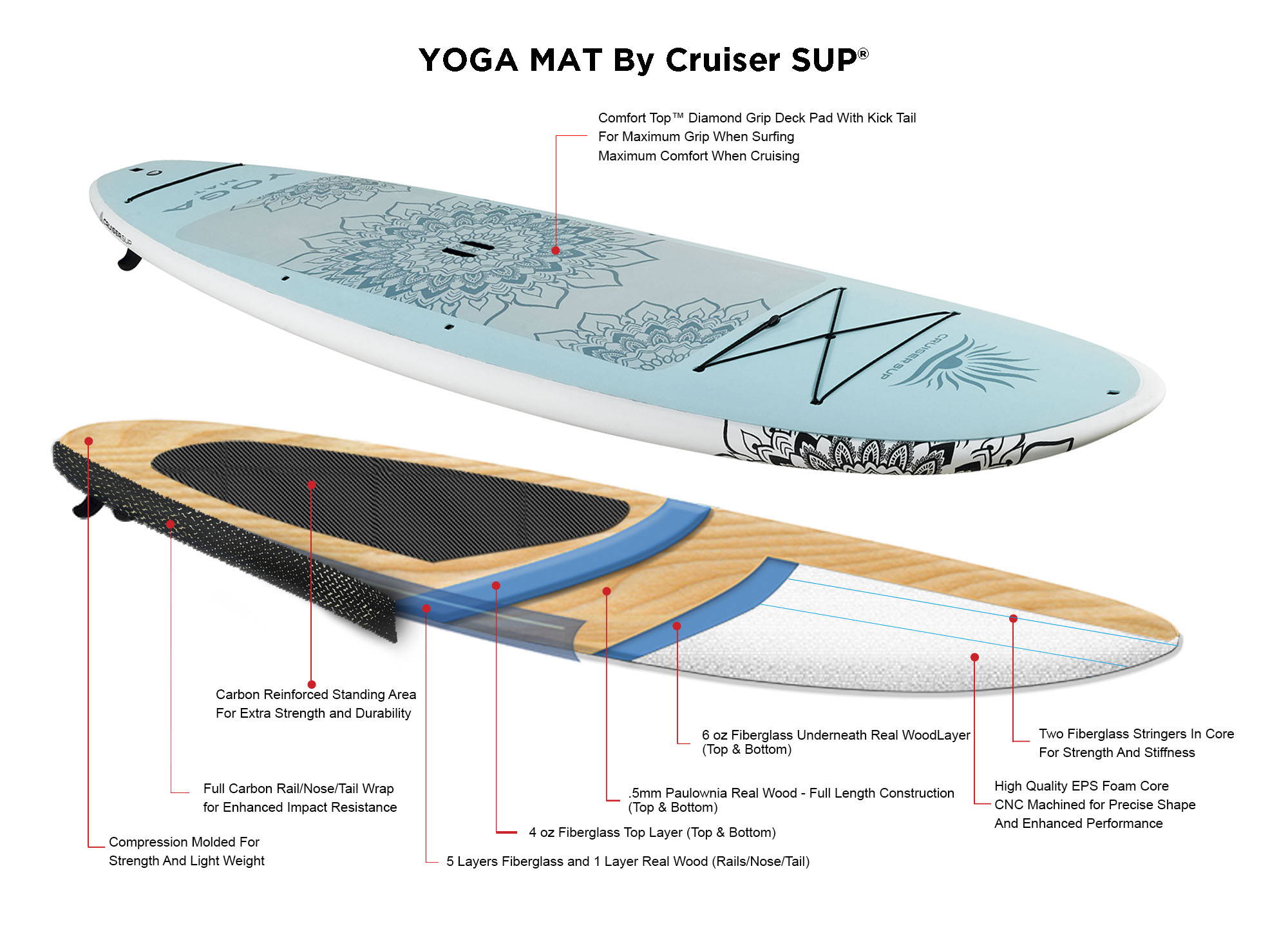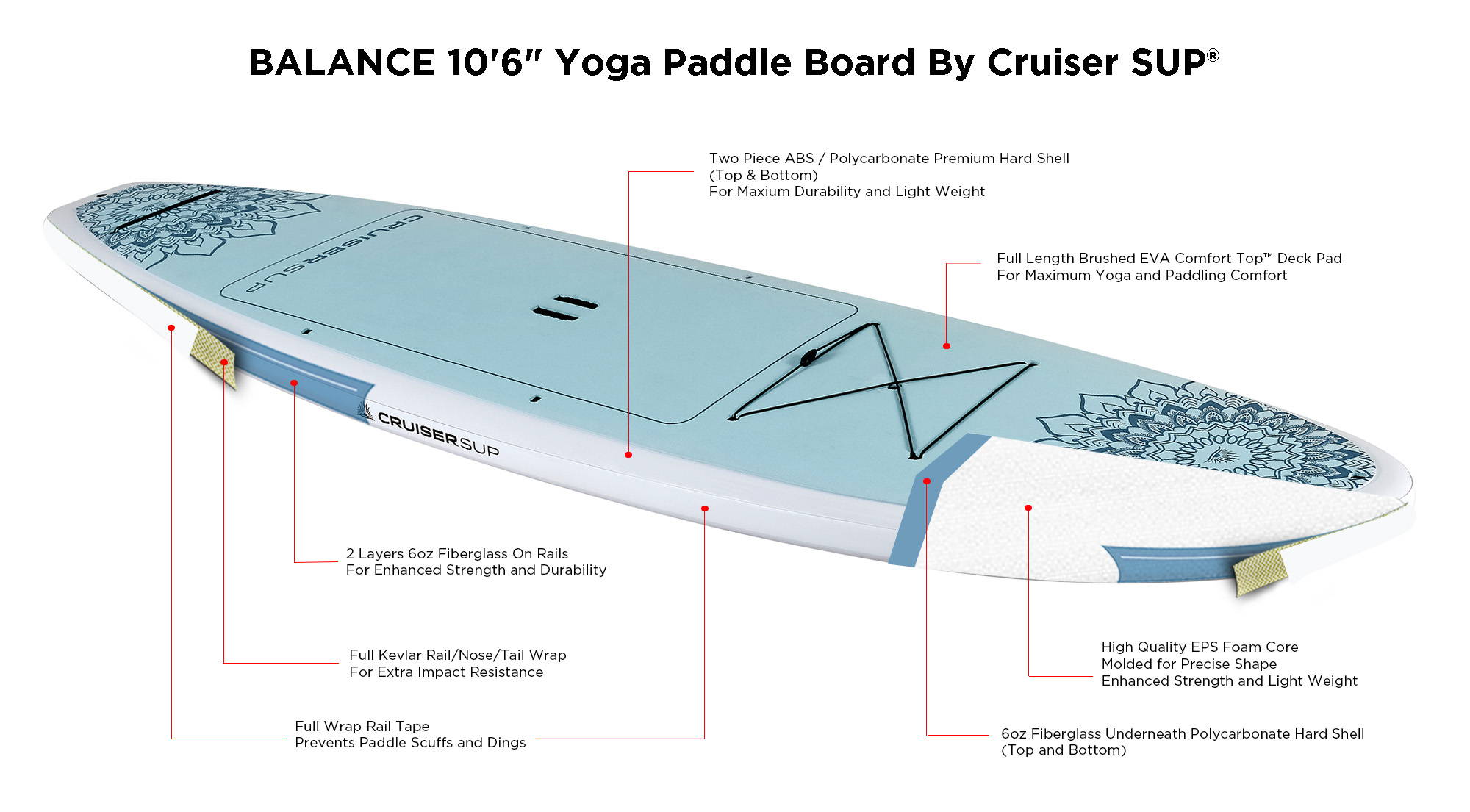 ---
BLISS CLASSIC Wood / Carbon

XCURSION CLASSIC Dura-Lite™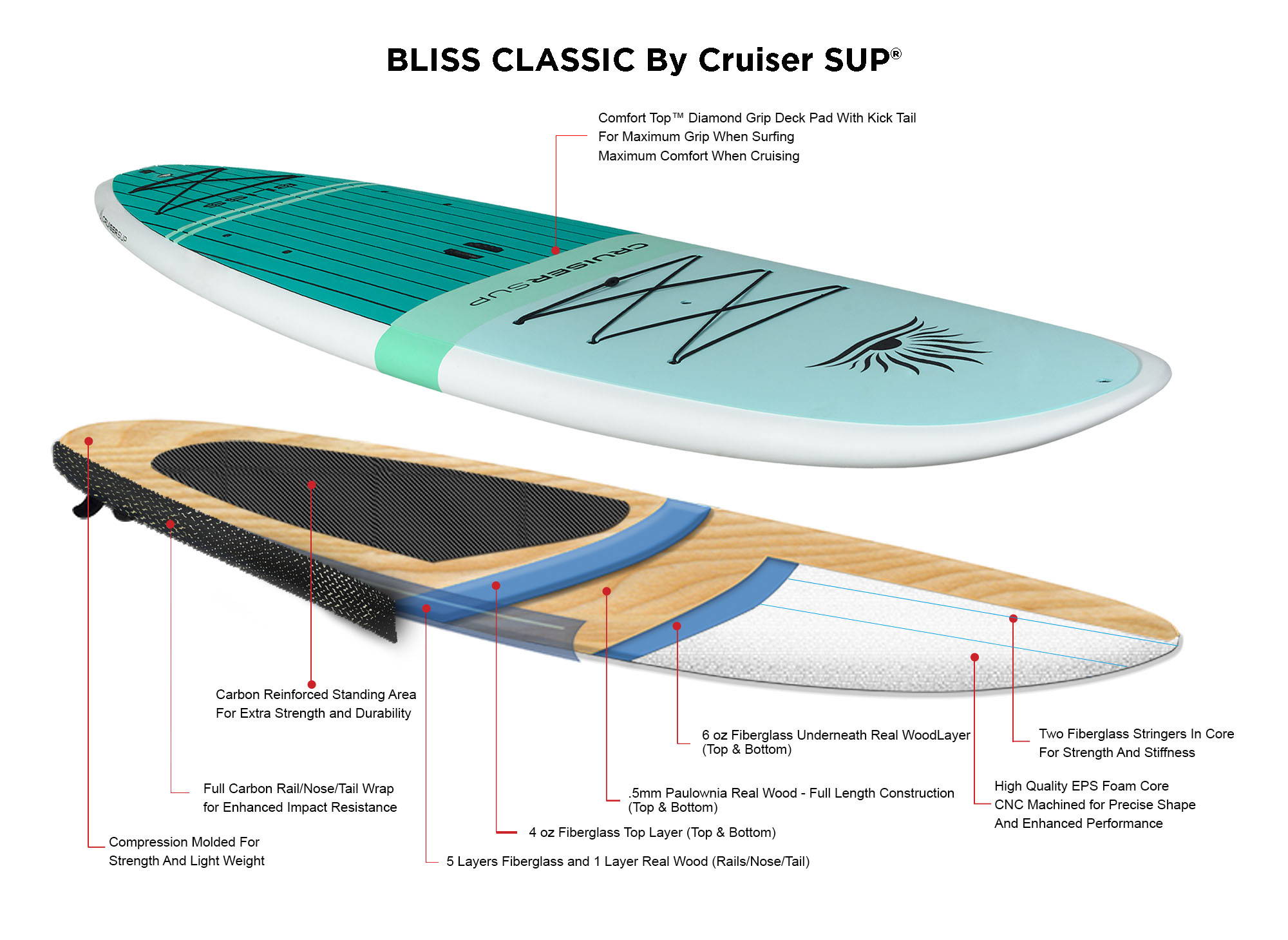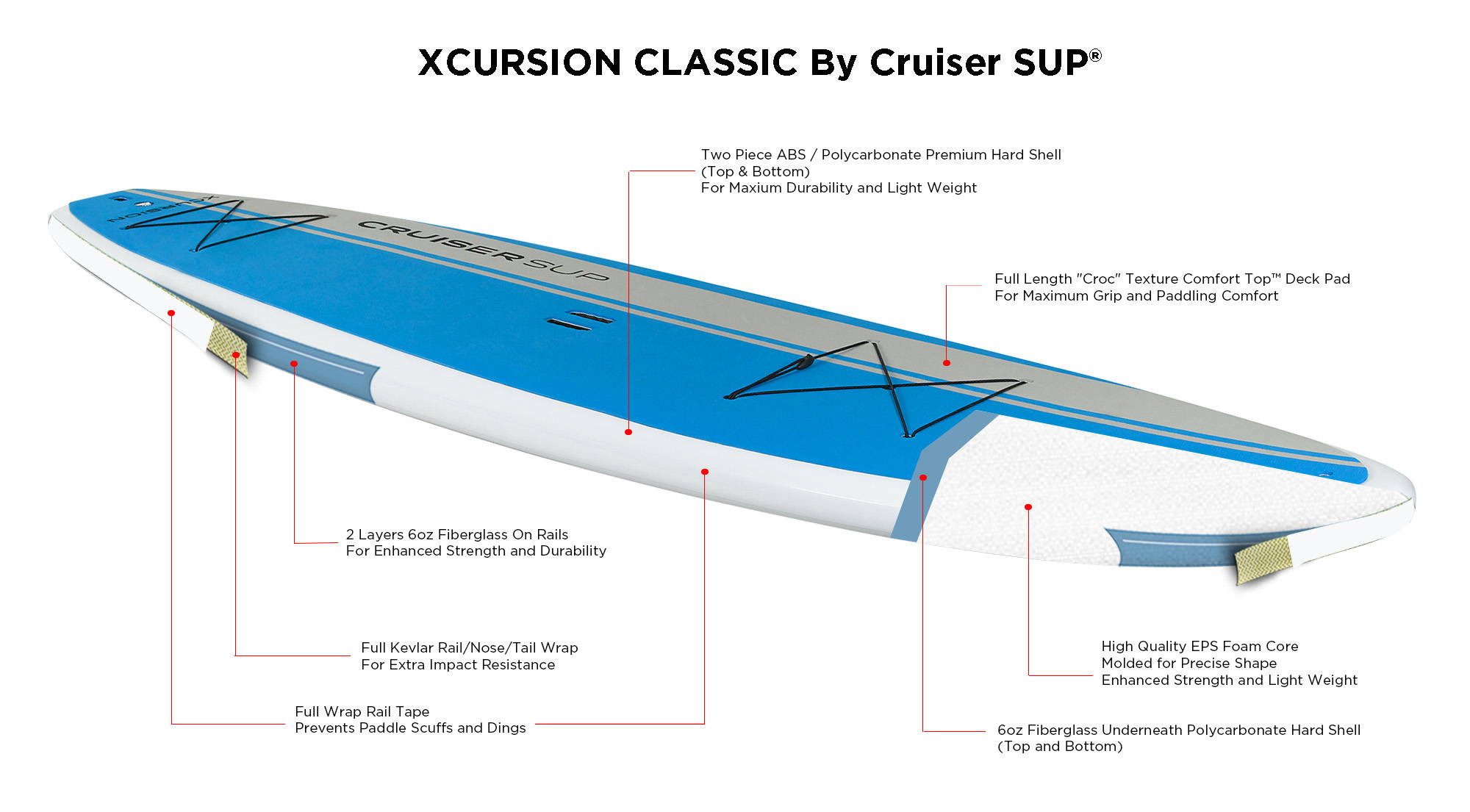 ---
Technology is best when
it brings people together
- Matt Mullenweg
(Blue) Brushed Texture EVA pad on the front section of the board for ultimate comfort for Yoga or tandem riding.

(Grey) Premium Quality Crock texture deck pad in the standing area for great grip without the discomfort of traditional diamond cut pads.

0.6MM wood veneer encompasses the entire board (deck, bottom, rails) for unprecedented stiffness at an unbelievably low weight. This results in more performance and lively feel.

5 layers of Innegra-Carbon and 6 oz Fiberglass overlap at the rail, making the rails super ding resistant to impact and paddle hits.

Carbon and 6 oz Fiberglass reinforcement patch under the standing area for added stiffness and to prevent heel dents.

3 Fiberglass stringers for triple the stiffness of a single stringer.

High Quality and light weight EPS Foam core.

Oversize nose and tail inserts. Nose and tail bungee cord tie downs included.
Using time proven, eco friendly PE shell (over 1 million boards built since 1979) with waterproof closed cell polyurethane foam core - stiffer and much more durable than hand shaped budget brands.
There are two components to this question - the factory and the durability of the construction. Cruiser ECO Dura-Max boards are produced in the most Eco friendly and Green board factory in the world.
Using the most advanced, European based board factory, the ECO Dura-Max board factory is very safe for the factory workers with no toxic materials, zero emissions and little waste material (most waste material is recycled at the factory). Secondly, due to the durability of the ECO Dura-Max (Epoxy Composite/ASA) construction, you do not find boards in landfills or left broken on the beach. Most of the hundreds of thousands of surf and windsurf boards produced in ECO Dura-Max since the 80' are still in use today.
Industry Leading 2 Year Warranty!
Our EPS core (Dura-Lite) are moulded, closed cell, and watertight. The moulded core is the key because each cell is intact with its own impermeable skin.European built ECO Dura-Lite (Epoxy Composite) construction produces a board that is approximately 30% more durable than epoxy boards, with better stiffness and lower weight than Asian built SUPs. To accommodate the needs of more advanced users, ECO DuraLite SUP provide shapes that not only suit the intermediate user, but also experienced riders who know how to ride a surfboard.
The process forms the top and bottom (ASA) surfaces of the board over precision aluminum molds. These formed surfaces are then pressed over a pre-shaped, lightweight EPS foam core, (the lightest surfboard foam available) which is covered in 6-oz fibre glass cloth and epoxy resin to give the board strength.
ECO DuraLite construction (Made Exclusively for CRUISER SUP): Wrap a custom molded EPS core/fiberglass/epoxy board in a thin, yet extremely durable layer of theromoformed ASA* polymer and what do you get? A stiff, lightweight board that is 30% more durable than a standard epoxy board. Tried and true, we've been making our high-end boards like this for exceptional performance and durability for over 30 years.
*ASA (Acrylonitrile Styrene Acrylate) is a copolymer based material with high impact and scratch resistant protection as well as remarkable resistance to degradation and discoloration from prolonged exposure to sunlight, heat, rain and common chemicals.