Board 1
Board 1
Board 1
Board 1
Board 1
Board 1
Board 1
Board 1
Board 1
Board 1
Board 1
Board 1
Board 1
Board 1
Board 1
Board 1
Board 1
Board 1
Board 1
Board 1
Board 1
Board 1
Board 1
Board 1
Board 1
Board 1
Board 1
Board 1
Board 1
Board 1
Board 1
Board 1
Board 1
Board 1
Board 1
Board 1
Board 1
Board 1
Board 1
Board 1
Board 1
Board 1
Board 1
Board 1
Board 2
Board 2
Board 2
Board 2
Board 2
Board 2
Board 2
Board 2
Board 2
Board 2
Board 2
Board 2
Board 2
Board 2
Board 2
Board 2
Board 2
Board 2
Board 2
Board 2
Board 2
Board 2
Board 2
Board 2
Board 2
Board 2
Board 2
Board 2
Board 2
Board 2
Board 2
Board 2
Board 2
Board 2
Board 2
Board 2
Board 2
Board 2
Board 2
Board 2
Board 2
Board 2
Board 2
Board 2
Carbon Paddle Upgrade Displayed
Two ESCAPE LE Wood / Carbon Paddle Board Package | Cruiser SUP® Canada
The Cruiser SUP ESCAPE LE is designed to offer high performance Stand Up Paddleboarding (SUP) in all conditions, from flatwater to surf. They are the perfect all around board for paddlers who paddle in a variety of conditions

The Cruiser SUP ESCAPE LE offer ease of use paired with high performance Stand Up Paddleboarding to intermediate and expert users in small to medium ocean surf.  The ESCAPE LE  is available in seven sizes, ranging 7'11" to 12', and weighs as little as 19 pounds.

Cruiser SUP's Ultra-Lite Wood/Carbon construction offers the lightest weight, highest performing boards, that best suit the needs of today's users. The construction features thin layers of wood veneer, sandwiched between layers of epoxy and fiberglass. The end result is the lightest and strongest skin over a water-tight, closed-cell EPS core.

The ESCAPE LE come with up to five fins (depending on board sizing(, allowing you to customize your board according to your preferences. This versatility, paired with the great looks, and light-weight nature of the ESCAPE LE makes them ideal for today's stand up paddler.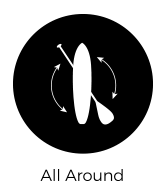 Recommended Size Chart & Technical Specifications
Two ESCAPE LE Wood / Carbon Paddle Board Package | Cruiser SUP® Canada
Board Construction
Ultra-Lite Technology
Bamboo | Carbon | Kevlar
Cruiser Ultra-Lite All Terrain and All Wave boards offers a class leading "tough", high quality bamboo construction.
Tough: In addition to three layers of 4oz. fiberglass on top and 4oz/6oz layers on bottom, (5 layers of fiberglass wrapping the rails), there is full-length .5mm real bamboo veneer reinforcement (stronger than fiberglass) sandwiched between the first and second fiberglass layers on top and bottom. Carbon reinforcement in the standing area to prevent heel dents. Kevlar cloth is added to the rails, nose and tail for extra ding resistance.
The quality CNC shaped 20kg EPS core is strong to prevent heel dents and dings. This combination is vacuum bagged for extra strength, impact resistance and lighter weight. The boards are painted in matte finish for improved performance and custom look. The result is a strong and durable premium construction.
Soft: Cruiser Ultra-Lite All Wave and All Terrain now offer 2/3 length high quality, plush EVA foam coverage for a soft, comfortable touch. With 4.5mm non-slip 'diamond" texture EVA foam, tail kick and toe ramp in the black tail piece.
Two ESCAPE LE Wood / Carbon Paddle Board Package | Cruiser SUP® Canada Features
Ultra-Lite Bamboo/Carbon/Kevlar Technology
The Ultra-Lite Technology features CNC shaping, carbon patch under the deck pad for added stiffness, and Kevlar rail reinforcement. The end result is a board that is light, stiff, durable, and exceptionally high performance.
Diamond Groove Traction Pad
Premium quality diamond groove traction pad in the standing area for ultimate grip and control.
Breathable Pressure Vent
This specially designed, maintenance-free valve features a 2-way membrane that lets air escape safely from the core of your board during rapid temperature changes on those hot, sunny days or during enclosed transport.
FCSII Side Fins
Efficient toolless system for quick fin installation and release. Fins can be easily inserted and removed in seconds, allowing you to adapt your equipment to the conditions both on land or in the water.
Ergo Handle
Large opening and curved inner surface for total ease and comfort when transporting your board to the water.
Tail Kick Deck Pad
Arch ridge and tail kick supply total control and comfort for surfing.
Universal Deluxe Wall Bag
Perfect wall bag with built In Paddle Bag! This universal fit, deluxe bag will protect your board from daily wear, tear and dings. High Quality Materials and Construction Durable 600D Denier Polyester top Durable PU coated ripstop nylon bottom  ...
Learn More
Composite (Non-Inflatable) Boards
All Paddleboards are double boxed to ensure they ship safely and arrive in pristine condition.
All composite boards, due to their size, must ship by freight carrier. Our chosen carrier for over the last 10 years is www.kingswaytransport.com
Restrictions and conditions may apply to our Free Shipping offer. *Restrictions and conditions may apply. This may include home delivery costs, remote delivery locations, or deliveries that are a substantial distance our Ontario shipping address.
Residential deliveries require delivery appointment (arranged with you by our carrier). Adult Signature required on all deliveries
Delivery to PO boxes is not possible. All address must have suitable access for a freight carrier/transport service to access
Paddles and other Accessories
All paddles and other smaller accessories ship via www.canpar.com. Signature is not required.
Please note, www.canpar.com is not able to deliver to PO Boxes.
Have more Questions?
Please contact us before ordering if you require clarification on free shipping restrictions, residential delivery, or any other aspect of the delivery process
E-mail Us: info@cruisersup.com
We're Here to Help. Before and After Your Purchase.
We Use Them. We Know Them.