ESCAPE LE Wood/Carbon Paddle Board Package | Cruiser SUP® Canada
The Cruiser All-Terrain is designed to offer high performance Stand Up Paddleboarding (SUP) in all conditions, from flatwater to surf. 
The Cruiser SUP All-Terrain offers ease of use paired with high performance Stand Up Paddleboarding to intermediate and expert users in small to medium ocean surf. The All-Terrain is available in seven sizes, ranging 7'11"" to 11'4, and weighs as little as 18 pounds!
Cruiser SUP's Ultra-Lite Wood/Carbon construction offers the lightest weight, highest performing boards, that best suit the needs of today's users. The construction features thin layers of wood veneer, sandwiched between layers of epoxy and fiberglass. The end result is the lightest and strongest skin over a water-tight, closed-cell EPS core.
The All-Terrain comes with up to total of five fins (depending on the size of board), allowing you to customize your board according to your preferences. This versatility, paired with the great looks, and light-weight nature of the All-Terrain make it ideal for today's stand up paddler.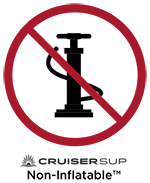 Recommended Size Chart & Technical Specifications
ESCAPE LE Wood/Carbon Paddle Board Package | Cruiser SUP® Canada
Length:
7'11"
8'5"
8'10"
9'5"
10'2"
10'8"
11'4"
Volume:
115L
125L
135L
150L
170L
185L
225L
Width:
30"
30.5"
31"
31"
31"
31.5"
33.5"
Thickness:
4.25"
4.25"
4.25"
4.5"
4.5"
4.5"
5"
Weight: *(+/- 10%)

18 lbs
19 lbs
21 lbs
23.5 lbs
25.5 lbs
27.5 lbs
28.5 lbs
Fin Type:
Center: 6.5"
Side: 4 FCS
Center: 6.5"
Side: 4 FCS
Center: 6.5"
Side: 4 FCS
Center: 8"
Side: 2 FCSII
Center: 9"
Side: 2FCSII
Center: 9"
Side: 2 FCS II
Center: 9" & 8"
Side: 2
Warranty:
2 Year
2 Year
2 Year
2 Year
2 Year
2 Year
2 Year
Weight Range: (lbs)
Beginner:
TBA
Up to 120
Up to 120
Up to 140
Up to 175
Up to 190
Up to 225
Advanced:
TBA
Up to 195
Up to 195
Up to 235
Up to 255
Up to 275
Up to 325
Board Construction
Ultra-Lite Wood / Carbon Technology
Wood | Carbon
Cruiser Ultra-Lite All Terrain and All Wave boards offers a class leading "tough", high quality bamboo construction.
Tough: In addition to three layers of 4oz. fiberglass on top and 4oz/6oz layers on bottom, (5 layers of fiberglass wrapping the rails), there is full-length .5mm real bamboo veneer reinforcement (stronger than fiberglass) sandwiched between the first and second fiberglass layers on top and bottom. Carbon reinforcement in the standing area to prevent heel dents. Kevlar cloth is added to the rails, nose and tail for extra ding resistance.
The quality CNC shaped 20kg EPS core is strong to prevent heel dents and dings. This combination is vacuum bagged for extra strength, impact resistance and lighter weight. The boards are painted in matte finish for improved performance and custom look. The result is a strong and durable premium construction.
Soft: Cruiser Ultra-Lite All Wave and All Terrain now offer 2/3 length high quality, plush EVA foam coverage for a soft, comfortable touch. With 4.5mm non-slip 'diamond" texture EVA foam, tail kick and toe ramp in the black tail piece.
ESCAPE LE Wood/Carbon Paddle Board Package | Cruiser SUP® Canada Features
Ultra-Lite Bamboo/Carbon/Kevlar Technology
The Ultra-Lite Technology features CNC shaping, carbon patch under the deck pad for added stiffness, and Kevlar rail reinforcement. The end result is a board that is light, stiff, durable, and exceptionally high performance.
Diamond Groove Traction Pad
Premium quality diamond groove traction pad in the standing area for ultimate grip and control.
Breathable Pressure Vent
This specially designed, maintenance-free valve features a 2-way membrane that lets air escape safely from the core of your board during rapid temperature changes on those hot, sunny days or during enclosed transport.
FCSII Side Fins
Efficient toolless system for quick fin installation and release. Fins can be easily inserted and removed in seconds, allowing you to adapt your equipment to the conditions both on land or in the water.
Lockable EZ Grab™ Carry Handle
Allows for ease and comfort when transporting your board to and from the water. Dual Opening, Ergo Handle allows the ability to thread lockable cable (Cable not Included).
Tail Kick Deck Pad
Arch ridge and tail kick supply total control and comfort for surfing.